Kauai Fun Facts -- Things to Know about Kauai!
Kauai is an island of contrasts--from rainforests, the Napali coast jagged cliffs, Mt. Waialeale (the wettest spot on earth), our beautiful Waimea Canyon (Grand Canyon of the Pacific) to our white sand beaches--over fifty miles of them! It is all here on this little island in the middle of the Pacific Ocean--
Longitude: 22.0833° N, Latitude: 159.5000° = Kauai, Hawaii!

Did you know--30 Interesting Facts About Kauai!

1. Travel & Leisure Magazine readers recently named Kauai as the 2nd Best Island in the World!
2. Kauai has more beaches, rivers, streams and waterfalls than any of the other Hawaiian islands.
3. Kauai's coastline is 111 miles and over 50% of those miles are sandy beaches.
4. Over 97% of the land on Kauai is used for conservation and agriculture.
5. Kauai is geologically the oldest of the major Hawaiian islands at 5.8 million years old.
6. Kauai's offical island color is purple.
7. Hawaii's office state bird is the Nene Goose--and Kauai has the largest protected population in Hawaii.
8. Kauai's official island flower is the Mokihana (a green berry found in the forest used in lei making).
9. Kauai's unofficial "Bird of Paradise" is the island's wild Rooster.
10. Kauai has the only navigable rivers in the state and our longest river is the Wailua River at 19.2 miles.
11. Kauai is roughly circular in shape with a diameter of 32 miles and a wide point of only 25 miles. Kauai
covers 552.3 square miles of land and is so small it is measured in acres = 401,280 in total.
12. Kauai coffee is the largest coffee plantation in the United States and Kauai grows more taro than any
other island.
13. Kauai is the northern most island in the Hawaiian chain. Hawaii is the most isolated inhabited land
mass in the world. Kauai is 2390 miles California, 3850 miles from Japan, 4900 miles from China and
5280 miles from the Phillipines.
14. Kauai's Mt. Waialeale is the Wettest Spot on Earth, averaging 450 inches of rain per year producing e
eight major, majestic waterfalls.
15. Our highest waterfall is Waipoo in Waimea Canyon falling 800 feet; Other beautiful Kauai falls are
Wailua falls in Wailua Valley falling 175 feet; Awini falls in Waimea Canyon falling 480 feet; Opaekaa
Falls in Wailua Valley falling 40 feet; Manawaipuna in Kahili Mountain falling 280 feet; Hinalele falls in
Wainiha Valley falling 280 feet and Kapeka Nui in Makaleha Mtns falling 280 feet.
16. Kauai's highest mountain is Kawaikini Peak at 5,243 feet.
17. Kauai (and all of Hawaii) is on Hawaii Standard time year round. When the mainland is not on Daylight
savings time, Hawaii is 3 hours behind the westcoast and 6 hours behind the eastcoast. No daylight
savings time in Hawaii!
18. Kauai is the fourth largest island in the Hawaiian chain with the largest Hawaii, Maui, Oahu, Kauai,
Molokai, Lanai, Niihau and Kahoolawe (listed in order of size). The State of Hawaii has 5 Counties and
Kauai is it's own County.
19. Hawaii has no native land reptiles or amphibians and only two native mammals, the horay bat and the
monk seal. And Kauai is the only island without the pesty mongoose (which were imported to control
rodents and now the mongoose rules!)
20. The Hawaiian Islands were one of the last places on Earth discovered and occuppied by humans. The
first colonies were established by voyaging Polynesians around 400-600 AD. Modern contact was made
by Captain James Cook when he landed on Kauai's Waimea beach on January 19, 1778.
21. The population of the County of Kauai is approximately 67,000 and a predicted population of 85,000 by
the year 2025.
22. Kauai's weather is described as "nearly perfect" ranging from 75 to 85 with not much change season to
season or from day to night. Rain showers usually fall in the evening and early morning, mostly over
the mountain ranges. As they say on Kauai "if you don't like the weather, just wait 10 minutes".
Kauai's lush northshore will receive approximately 4-5 times the annual rainfall as Kauai's southshore.
23. Ocean temperatures will range from 60 to 80 degrees.
24. Seventy percent of the island is inaccessible by foot.
25. Hawaii was admitted as the 50th state on August 20, 1059.
26. Hawaii, like Canada and the US Mainland, uses 110-120v AC (60 cycle) electrical current. This is helpful
for visitors coming from other places as they will need to bring adapters. We electric lights, ATM's, our
cell phones work, our currency is US dollars and we speak English & Hawaiian (with a few more thrown
in as well). The area code for all of Hawaii is 808.
27. Waimea Canyon is approximately one mile wide, 3600 feet deep and 10 miles in length.
28. The Kilauea Lighthouse was build in 1913 for navigation of commercial shipping between Hawaii and
the Orient and has the worlds largest clamshell lens. The beacon was decommission in 1976 and
replaced with an automated lighting.
29. Kauai is the home of the legendary Menehune. In ancient stories these were tiny people who
performed amazing feats of engineering and construction.
30. And perhaps the most interesting and unusual fact is Kauai's Building Code dictates that "no building
shall be taller than a Coconut Palm"--thus the 4 story limit on vertical construction--so we will never
look like Waikiki!
Imagine an island where no building is taller than a coconut palm----KAUAI!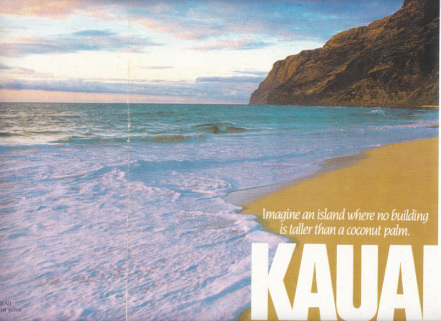 These Kauai Fun Facts Brought to You by Your Kauai Real Estate Agents
Ilona Coffey, REALTOR(B) 808-635-1495 ilona@KauaiAgent.com
Lucille Adams, REALTOR(S) 808-651-5676 lucy@KauaiAgent.com
www.KauaiAgent.com
Coldwell Banker Makai Properties 1941-D Poipu Road Koloa, HI 96756
We are here to assist you with any of your Real Estate Needs!